I thought I'd have a bit of fun on this Tuesday-that's-really-a-Monday and join in with This Little Mama's Speed Dating Link-Up. I'm in a bit of a confessional mood, so I'm looking forward to sharing some things about myself many of you may not know.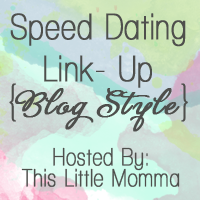 I love reading. A lot. And I'm apparently not very picky because even when I don't like a book, I still finish it. Sometimes, I even read it again. I'm not sure if I'm hoping either it changed or I changed, but either way, neither of those things ever happens.
I have what I call an "East Coast personality." Others might describe it with a single word less fit for this particular blog. I never knew this about myself until I moved away from the East Coast.
I started riding horses when I was 10. My first lesson, my horse spooked, bolted off in a gallop, and I managed to stay on and calm him down. (His name was Rowdy, which should have been a tip-off.) My instructor was terrified. My dad was concerned. I just wanted to do it again.

My favorite jewelry comes in little blue boxes.
I'm equally at home in the city as I am the country. And I love both places for entirely different reasons.
I don't like getting to know people. It's so much effort, and I'm very awkward at it. This is probably why I am a dedicated friend; once I make that original effort, I don't let go easily.

I have freakishly neat handwriting.

I chose my college major, biology, because my high school guidance counselor told me I couldn't do it. Telling me I can't do something is like waving a red flag in front of a bull. Except it usually results in something positive, which is more than I can say for the bull.
I'm most comfortable and confident in a stable, surrounded by horses.
My favorite food combination is Friendly's ice cream (preferably strawberry with hot fudge) and their piping hot french fries with tons of ketchup.
I like snakes, spiders, mice, bugs, lizards... all those things that girls are supposed to live in fear of encountering. I've worked with pythons, tarantulas, cockroaches, rats... I'm more inclined to cuddle them and talk baby talk than get scared.
I am intensely stubborn, but I like to think I'm just humble enough to avoid crossing into pig-headedness.
Dan and I have moved three times across the country, coast to coast. With our cats. It wasn't what I would call a fun road trip. Any of them.
I've fed a giraffe.